Measures to ensure safe, healthy and positive school climates in Ontario are being developed in the context of educational policy enshrining such notions as progressive discipline and character education. With the Ministry of Education's launch in 2009 of the Ontario Equity and Inclusive Education Strategy, establishing a vision and three-year plan for increasing equity and promoting inclusive education in Ontario's schools, schools and school boards are well-positioned to develop anti-racist, anti-sexist and anti-homophobic strategies for prevention and direct response that are grounded in supportive policy.
While initiatives leading to increased equity and inclusion in schools may entail additional effort on the part of teachers and administrators at the outset, there are many long-term benefits to the whole school community. As highlighted by a 2008 report on school safety prepared for the Toronto District School Board, "safety can only be accomplished in partnership with equity." (From the report entitled The Road to Health: A Final Report on School Safety, School Community Safety Advisory Panel, January 2008.)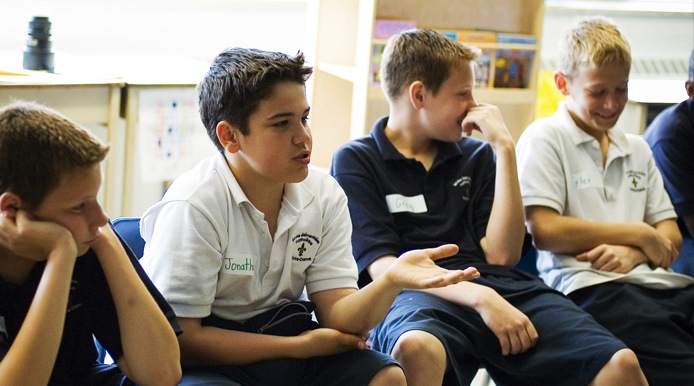 Ensuring that all schools recognize and embrace difference is as important for members of school staff as it is for students, since among them are represented the full range of human diversity in Ontario. The school constitutes daily life for students and school staff; thus, working for equity and inclusive education raises the question, what kind of working conditions or studying environment is most desirable?
You don't have to be an expert to get started. No one initiative, project or lesson plan will eliminate sexism, homophobia, racism or other forms of prejudice and discrimination. Increasing equity and inclusion is about starting the conversation, it's about being willing to engage in authentic dialogue about our biases, our assumptions, our privileges and our responsibilities as students, parents, teachers, administrators and citizens. The continuous process is as important as the result.
Resistance to Change
Resistance to change is a real issue in schools, as it is in any setting in our society. Teachers may be motivated but hesitant to initiate discussions about equity issues in school for fear of backlash. Teachers who identify with a socially-marginalized group may feel and be particularly vulnerable to backlash.
Discussing homophobia, sexism and racism and working toward their prevention will likely stir things up and teachers and administrators need to know we will have support. Ideally, all elements within the school community will band together to bring about change.
School staff members who are working on these issues need to know that our efforts are supported by several legal instruments, including the Canadian Charter of Rights and Freedoms and the Ontario Human Rights Code. Many school boards have an equity policy that may provide support and leverage to teachers and administrators. Part of the Ontario Ministry of Education's three-year plan to increase equity and promote inclusive education in schools entails the development of relevant policy by all school boards in the province (see Policy/Program Memorandum No. 119, and Equity and Inclusive Education in Ontario Schools: Guidelines for Policy Development and Implementation, 2009 at Greater Equity Means Greater Student Success). In addition, the Ontario Teachers' Federation or our affiliated union may have additional ways of providing us with support.
Equity policies in school boards are only useful if they are implemented. If there is a lack of motivation, awareness and buy-in on the part of those in the schools, then their usefulness is limited.
Here's what teachers can do to deal with resistance to change:
Assume that there will be resistance. It is likely that we will stir things up and encounter some form of backlash. We can anticipate this and build it into our planning.
Identify obstacles to change and assess the risk. For example, lack of an equity policy in our school board, an equity policy that is not used, an administration that has not demonstrated support for these issues.
Identify opportunities and assets that may help us further our goals. For example: allies, diversity in the composition of school staff, a supportive administration.
Develop strategies based upon the obstacles, risks and opportunities we've identified. For example:

We may decide that at this juncture, the only thing we can do is lobby the school board to develop an equity policy.

Identify allies and potential allies in our environment and focus on mobilizing them (colleagues, administrators).

Work with administration if it is supportive. Begin to develop a plan together. Remember that administrators need to know they will have support since they face many challenges if there is backlash.

Plan beforehand how we'll deal with resistance and backlash, either from parents or administrators.

Identify allies at the school board level, for example, equity resource people.

Actively seek to develop the support of colleagues, principal and administration over time. Taking on this kind of leadership role may be a way of laying the foundation for future change.
Ultimately, it is everyone's responsibility to contribute. Comprehensive change will only happen when everyone is on board, but there are many things teachers can do everyday to change attitudes. The "secret ingredients" to increasing equity and inclusion in schools are a combination of time, consistent effort, developing allies and using policy (school board and legal instruments).
For tools and resources to stimulate discussion with students, click here.